Repairs and Maintenance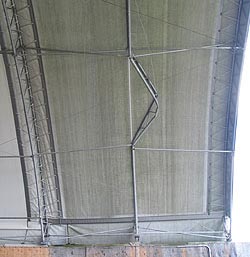 Although fabric buildings and steel buildings are relatively maintenance free, during the lifetime of your building you may need some minor maintenance or repairs. This may be normal wear and tear, damage due to an accident or perhaps a warranty claim. In any case UCC's experienced staff and crew can help you get the parts you'll need and complete the repair in a timely manner.
Some common repairs on steel buildings include:
Finding leaks and repairing them
Brace inspection
Anchor bolt inspection
Gutter repair
Damaged panel replacement
Trim repair and fastener replacement
Some common repairs and maintenance on fabric buildings include:
Patching tears and holes in the fabric
Cover tension inspection
Cross cables inspection
Anchor bolts inspection
Apron re-fastening or repair
Steel truss or purlin replacement
If you have any questions or require maintenance on your building please contact us.